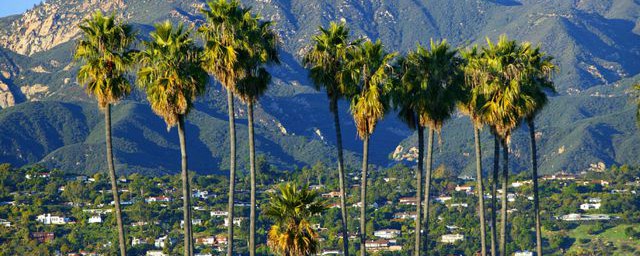 General Information
The Riviera encompasses an ocean-facing hillside and back hillside extending for approximately two miles: North from Foothill Road to Sycamore Canyon Road, and South from the Santa Barbara Mission to North Salinas Street. The famous ribbon-like Alameda Padre Serra serves as the principal entry point from the Mission and the City of Santa Barbara. Since the past century, it has been known as "the Riviera" due to its resemblance to the Mediterranean coastal towns of France and Italy. The neighborhood has winding streets with intricate stone work terracing built by early 20th C. Italian immigrants. Most of the topography of the Riviera is relatively steep, making it particularly noteworthy for homes with outstanding views of the City of Santa Barbara and the Pacific Ocean.
History
Bridging the two mile span which separates Mission and Sycamore Canyons, the sylvan uplift which the padres knew as the "mission ridge" has for the past 65 years been known as "the Riviera" due to its resemblance to slopes along the Mediterranean coasts of France and Italy. Santa Barbarans lucky enough to live on this ridge attach premium value to their homes because of their unsurpassed views of city, mountains, sea and islands.Read More History
Neighborhood Association
The Association's mission is to uphold the continuous maintenance of the high standards of living and structural improvements generally characteristic of the area including … concern for matters of zoning, density, policing, roadways, utilities, traffic safety, fire protection and land use in the geographical territory of Santa Barbara's Riviera.
More information: The Riviera Association
Contact Terry if you are interested in buying or selling prestigious luxury, mansions or estates. If you are looking for a home with gorgeous mountain or ocean views, or you have horses and want easy access to equestrian trails, Terry is the Broker REALTOR® for you.